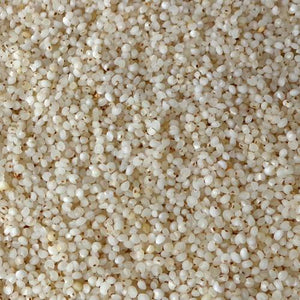 HealthyOrganic
Organic - Barnyard Millets
Regular price
Rs. 95.00
Rs. 0.00
Barnyard Millets - Hindi: Sanwa; Kannada: Oodhalu ;Tamil: Kuthiravaali; Telugu: Odalu;
* Their low GI makes them diabetic friendly.
* Most digestible and non-allergic grains - gluten free.
* good source of protein n excellent source of dietary fiber.

Replace it with rice & eat them with curries...
Preparation:
Soak (min 2 hrs or even overnight) 1 cup Millets with 2 cups water in a bowl - 1:2 ratio
Pour 200ml water in electric rice cooker bowl n place the soaked bowl n let them cook. (Avoid cooking in pressure cooker)
We can also prepare Upma, Kheer/payasam, Pulao... can also make Idli & Dosa.
Gluten free
Best at weight loss
50 times the fibre content of rice (white-raw)
Reduces cholestrol
Provides b-complex vitamins
Improves skin condition
Perfect for idli, khichdi, pongal, bisibele bhath
---
More from this collection