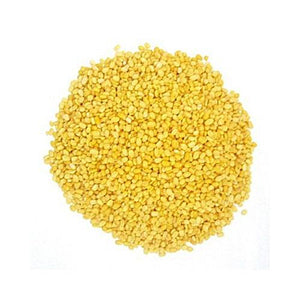 HealthyOrganic
Organic Hand-processed Green moong dal (split green gram)
Regular price
Rs. 105.00
Rs. 0.00
Healthy Organic prepares Green moong Dal in traditional way preserving maximum nutrients so that you get best nutritional value.
Organically grown Green gram will be cleaned and soaked in water for 6-8 hours.
They are allowed to get small sprouts. The sprouting process enriches nutrients.
Then they are dried completely under sunlight.
The dried green gram will be grinded in stone chakki to get dal(split). No polishing or other nutrient losing process. They will be packed without any addition of preservatives (100% chemical free).
Moong beans are a well-liked food among the vegetarians since it includes a lot of proteins and fibre. It is one of the easiest dals to digest and for this reason, it is frequently given to people recovering from an illness, especially a stomach upset. It contains antioxidants, which are extremely healthy for the good functioning of the human body. It is an excellent balanced diet and could be included in our daily.
---
More from this collection